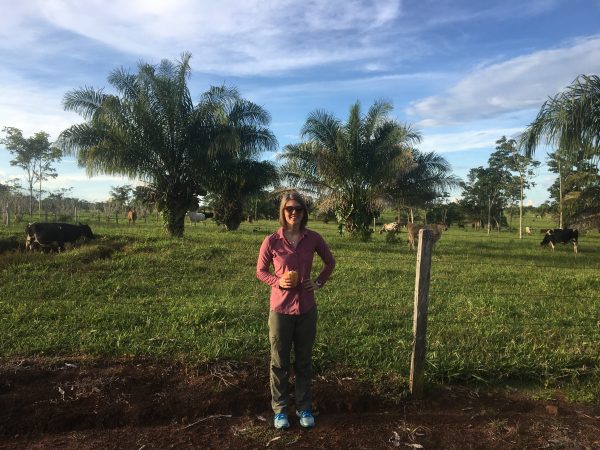 During AAE Ph.D. candidate Marin Skidmore's first semester on campus, her advisor Jeremy Foltz encouraged her to articulate her goals and make a plan to achieve them. Having arrived at UW-Madison already interested in agricultural production in Brazil, after working on the topic while completing her master's degree at the University of Illinois, Marin hoped to continue that work. So she set a goal of getting a Fulbright to do research in Brazil.
After connecting with the Nelson Institute's Holly Gibbs who helped her see just how complex the issues were, Marin wanted to expand research on agricultural production and environmental outcomes to include the well-being of smallholder farmers in the region. That's how she discovered Dr. Jill Caviglia-Harris at Salisbury University, whose work in the region was focused on small farmers.
With the continued guidance and encouragement of Foltz and Gibbs, Marin seized this opportunity to apply for the Fulbright scholarship to collect a fifth wave of household data in Ouro Preto do Oeste, Rondônia to continue the research of Dr. Caviglia-Harris.
As it turned out, their team was also applying for grants to expand on the earlier work through the Connections Between Water and Rural Production (CAPs) project, focused on how water availability and quality affect household's production decisions, and vice versa. The research requires pairing a household survey with hydrological and meteorological data.
True to her goal, Marin got her Fulbright, the CAPs team won their grant, and they are now all working together in Brazil collecting data.
When asked what makes AAE a special department, Marin answered, "The people. The students work together on everything from studying, brainstorming research ideas, or practicing presentations. There's an understanding that we are each other's teammates, not competition."
She is also grateful for the "incredibly supportive faculty who have given me space to pursue my own interests while making sure that I have a support system in place."  She feels that AAE has helped her develop as a whole person, not just a researcher.
Marin expects to complete her Ph.D. in Spring of 2021, and then hopes to become a professor.  "The more time I spend in the field doing research, the more questions I have", says Skidmore. By being a professor, she hopes to be able to pursue those questions while also passing on a love of agricultural economics and research to others.
Learn more about the Connections Between Water and Rural Production Project