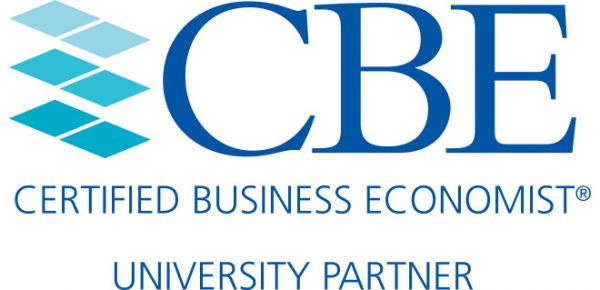 Students can now earn The National Association for Business Economics (NABE) Certified Business Economist Certification (CBE®) in conjunction with AAE's MSPO Degree.
NABE is the premier professional association for business economists and those who use economics in the workplace. Their CBE is a professional certification program designed by leading economists to bridge the gap between what is learned in an academic setting and the knowledge needed to succeed as a practitioner.
NABE has recognized the Master's of Science Professional Option (MSPO) from AAE as a certified program. This certification will help our students gain access to even more employment opportunities upon completion of their degrees. Earning the CBE certification validates the rigorous training in both hard and soft skills, and signal students' commitment to stay up to date with the latest developments in economics and data analytics.
Students who matriculate in the AAE MSPO program will be able to complete their CBE requirements while studying for their degrees. Once they have completed their degree they can sit for the CBE Exam which will be offered on campus each year.
CBE Requirements
Candidates must receive a degree from a certified program.
Curriculum requirements include all the required MSPO classes plus AAE 875: Applied Business Economics.
Candidates must pass the CBE examination which will be offered on campus every spring.
You must be a member in good standing with NABE, see here for fee information.
Candidates must have two years of work experience in applied business economics or in a related field to be awarded the full CBE certification. However, those candidates who do not satisfy the work experience requirement will be awarded the pre-CBE certificate. Upon completion of the two-year work experience they will be awarded the full CBE certification.
Candidates must review and adhere to the NABE Professional Conduct Guidelines.
Designees may renew their CBE by completing 30 hours of continuing education every two years and paying a renewal fee.
Visit the CBE Partnership page for more details
See the Press Release from NABE