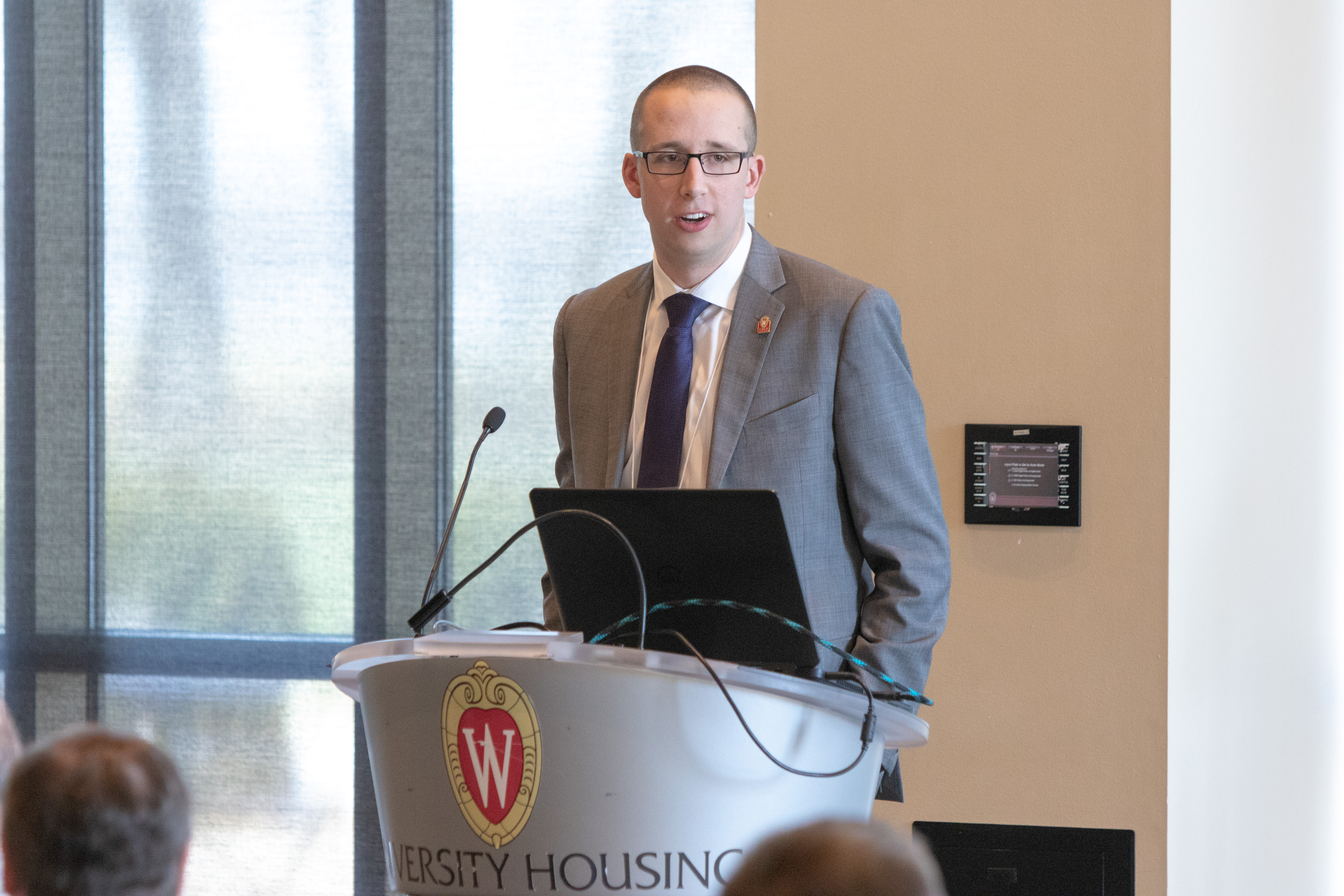 Growing up on a family farm in Arena, Wisconsin, Luke Drachenberg loved three things: agriculture, business, and Badger football. So, it only makes sense that when it came time for him to go to college, he ended up as an Agricultural and Applied Economics major at UW-Madison. The seed was planted when and he had spent time on campus watching the Badgers and reminiscing with his dad, Eric Drachenberg B.S. '88 on the Ag side of campus. His uncle, Dale Drachenberg B.S.'90, was an AAE major, which led him to check out the department. After meeting with faculty on a visit, Luke was sure that AAE was the right place for him. He joined the department, eventually switching to a double major in Agricultural Business Management and Economics. He was a proud third generation Badger, following not only his dad and uncle, but his grandfather Donald Drachenberg, B.S.'63.
Luke took advantage of all that the department had to offer. He was an active member of the Agricutural Business Management Club, which exposed him to different professionals in the field and their career choices. He used this information, and great contacts from the department, to secure internships at Badgerland Financial (now Compeer Financial), one of the premier agricultural lending operations in Wisconsin. He also spent a summer with the U.S. Senate Committee on Agriculture, Forestry and Nutrition, which helped him understand the politics surrounding agriculture and legislation. In additional to professional experience, Luke was Renk Agribusiness Institute Scholar and Agriculture Future of America 40 Chances Fellow.
After graduating in just 3.5 years, Luke has launched his career at Ceres Partners, an asset manager focused exclusively on food and agriculture. Drawing on his farm experience and his training from UW, he focuses primarily on property management, acquisition due diligence and developing tenant relationships in his role at Ceres with a special focus on Wisconsin, Ohio, and the Mid-South. As he was getting ready to graduate, Luke was looking for an employer that would give him a supportive environment and freedom to grow. He has found it in Ceres, and looks forward to continue to develop professionally. An MBA might be in his future, he looks forward to supporting his family farm in Wisconsin, bringing knowledge and experience that will help the farm thrive well into the future.