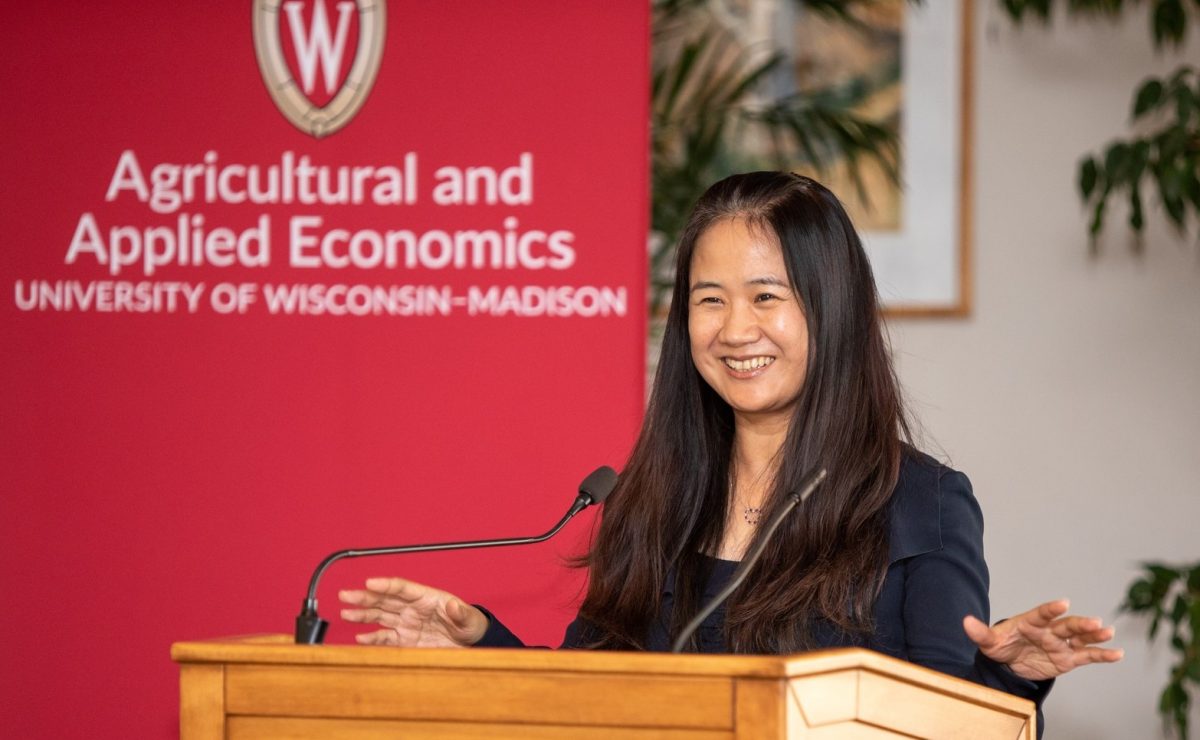 Greetings from Madison!
As the fall semester comes to a close, I am excited to be writing to introduce myself as the new chair of the Department of Agricultural and Applied Economics (AAE). I have been in this position since July, taking over from Dan Phaneuf, who did a wonderful job before me, particularly steering us through the very trying COVID years. Dan returns to his research, teaching and responsibilities as editor of the journal, Land Economics. Thank you so much, Dan.
I grew up in China and completed my undergraduate studies in 1995 at Fudan University in Shanghai. I then spent two years working in the banking industry before coming to the U.S. for graduate studies. In 1999, I earned an M.S. in Community Development and Applied Economics from the University of Vermont; in 2005 I earned a Ph.D. in Agricultural and Resource Economics from UC Berkeley. Immediately following the completion of my doctorate I joined AAE-so, AAE is actually my first job!
I currently hold the Renk Agribusiness chair. My research focuses on the economics of industrial organization in the U.S and China. I am interested in understanding firms' strategic behavior under imperfect competition including pricing, product offering, and intellectual property protection, with applications to biotech seed industry and agrichemical inputs market. Further interests include the adoption, profitability and impact of biotech crops, and emerging issues related to environment and development in developing economies. In addition to my research, I am also the faculty director of the M.S. Agricultural and Applied Economics Professional Option (MSPO), AAE's full-time professional master's program. Now in its fourth year, it was established to meet the growing private sector demand for quantitatively-skilled and data intensive analysts and managers.
We are a family of four. My husband is an entrepreneur who operates two Asian grocery stores and a food hall in town, because we love food! We have two children: Allen, a Badger who majored in computer science who now works as a software engineer for Oracle in San Franscisco; and Annie, a junior majoring in sociology and Asian American studies at Washington University in St. Louis. As a family, investing in our "community" -wherever we feel a connection- is a priority. We volunteer for the Hometown Education Foundation, a Madison-based charity organization that supports poor students in rural China to continue their basic schooling. Within our AAE community, my husband established a graduate student travel grant in 2016, which he sees as both an investment in the education of future AAE alumni and as a show of gratitude for the funding I received during my graduate studies.
I feel very lucky to have landed my first job in AAE, surrounded by such high-caliber, collegial and supportive colleagues. I say this from my own personal experience as a new faculty. I have fond memories from my early years at AAE of interactions with Truman Graf, an AAE faculty (and legend). Already retired by that time, Truman continued to come to Taylor Hall, where his office was next to mine. During his visits he would often stop by and chat. Our conversations would cover a broad range of topics, from my research, to his Rose Bowl trips, to lawn care tips from an experienced "gardener" to a rookie homeowner (I especially liked the tip that said "no, you don't need to do that"!). Because I was the first Chinese faculty in the department, he'd also share newspaper clippings about China that he thought I'd find interesting. Despite my junior status, the way that Truman treated me —as an equal colleague — with respect and sincerity, impressed me deeply, and set an example that I have carried with me to this day.
I am honored to be the first woman chair of this department and excited to be sharing this new era with an exceptional team of faculty and staff.  As chair, I am committed to ensuring that all members of our department feel welcome, respected, valued and supported, just as I was made to feel when I first arrived. This is not a blanket statement, but a top priority in AAE; one that I will champion in all aspects of our work.
I look forward to meeting some of you in the future, and welcome you to email me. If you find yourself on campus, I hope you will drop by Taylor Hall and say hello-our doors are always open.
Best wishes to you and yours for the holiday and new year.
Sincerely,
Guanming Shi,
Chair and Professor, Renk Agribusiness Chair